Being out in the water with family, friends, or even by yourself is a great way to spend time. You can get time to think, talk or go fishing and do many other activities while you're out discovering the waters.
But not everyone has the privilege of owning a big old yacht to take out to see. A Pontoon boat is a much more accessible option. But are Pontoon boats worth the money?
Yes, Pontoon boats are definitely worth your money, because they are so easy to use and versatile. You can do so many activities on a Pontoon boat and have fun on the most diverse waterfronts. Their unique build allows them to be used perfectly even in shallow areas and they are light and much more affordable than a lot of luxury boat models. 
I mean, as long as you get proper use out of the boat, you won't regret investing in it. But that does depend on your lifestyle and how much you are willing to spend on recreation.
Let's learn all there is to know about pontoon boats so that you can decide for yourself whether you want to invest in them.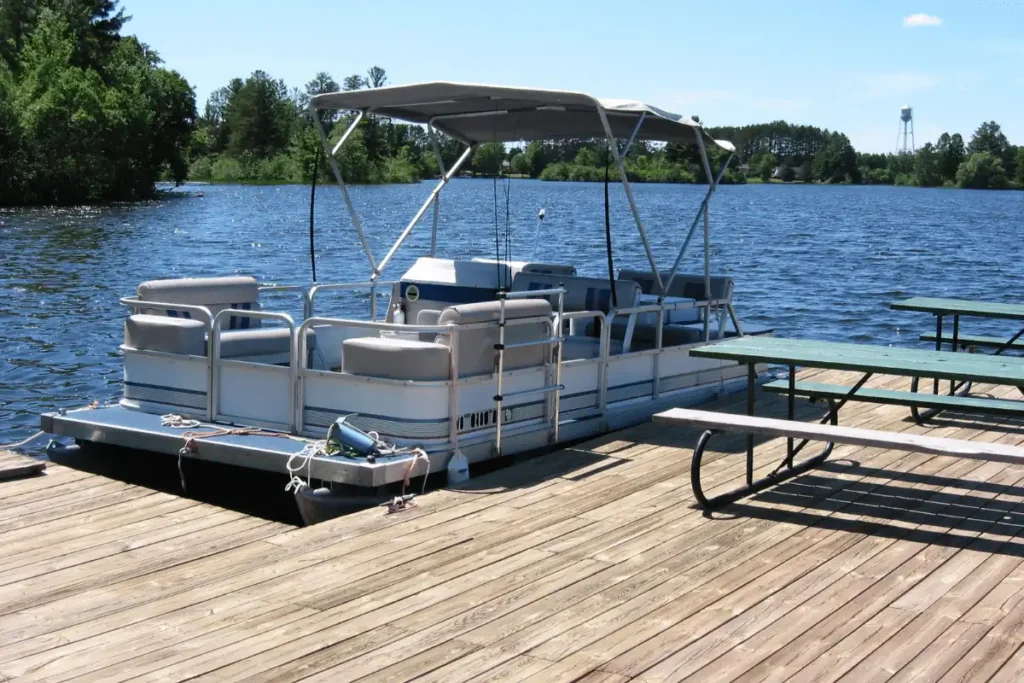 Are Pontoon Boats Worth It?
Pontoon boats can be a great investment if you enjoy spending time out at sea or doing any waterfront activities. It's a great hobby to have and not only you, but your entire family can enjoy the boat.
What makes Pontoon boats worth it is their versatility. From fishing alone to chilling out with family, you can do it all. 
Let's go deeper into why you should think of investing in a Pontoon boat. 
It's very spacious 
Usually, your pontoon will have at least about 20"-27" length of deck space. This gives you a lot of room to move around and have fun, while also having plenty of space for seating.
The Pontoon will have furniture placed around the edges, so you can utilize the large flat surface area for games or other storage options.
Due to the availability of such a wide flat surface, it's also very wheelchair friendly. This means you can bring your handicapped friends or family along for the ride as well.
All this room also means that your kids can play around and have fun or you can use it as a lounge as well. 
Seating is amazing
The furniture that comes with a Pontoon is top-class. It's almost as soft as your sofa at home. There are tons of layout options available to choose from as well.
You can get forward-facing lounges or fishing chairs, daybeds, or even a bar-top seating layout. See, that's the best part of having a Pontoon. You can use it in many different ways. 
These seats are designed for comfort and versatility. Whenever you have people over, they will love just chilling in your lounge and hours will go by as you have fun, comfy conversations with a beautiful view of the water. 
You don't have to worry about getting wet
Due to the height of the Pontoon boats, you don't have to worry about accidental splashes or any water getting on you while you cruise.
You can stay completely dry as the wave tamers and spray fins on your Pontoon keep water away and help to reduce splash when you hit waves. 
This is very different from some other boats which ride lower and stay much closer to the surface of the water. There is also no risk of water getting on your boat, as it might with other options. 
You can ride smoothly and stably on the water
If you've ever been on a Pontoon, you'd know how smoothly they glide on the water. It'll almost feel like you're flying through.
This is because Pontoons are built with lifting strokes which allow the boat to plane out way faster. You get such a smooth ride because you're not fighting through choppy waters on top of the surface, unlike V-hull boats. 
That's not the only thing. There are plenty of other design elements like the nosecones or wave tamers that allow the boat to smoothly cut through the water. This ride is built to be smooth. 
It's very easy to maintain
A lot of other boats or options on the market require you to take care of your boat like it's your baby. They are a lot of work.
With a Pontoon, you have no reason to worry. It's very easy to care for and not at all labor-intensive. 
You'll probably need one or two max service appointments for your engines. If you regularly keep this up, your boat will last you for years and years.
The Pontoon itself is also very easy to clean. Made with vinyl, it can easily take on the sun and outdoor exposure and cleans with just a wipe down after use.
You can also hose down the floors to get rid of any dirt. Easy, peasy. 
It's like having your very own SUV for the water
Everyone loves SUVs for their versatility and family-friendly nature. Well, a Pontoon is no different. You can take it out for a quiet cruise on the river at sunset.
If you're more of a family person, you can take the kids out for an afternoon of water activities. And if you wanna entertain friends, the amazing lounge system will impress everyone. 
You can pretty much do anything you want with a Pontoon. Plus if you want you can also add equipment to make the Pontoon better suited for fishing or water sports as well. The options are endless. 
These are just a few of the reasons why you should get a Pontoon. For all the use and fun you get out of this one boat, the money is very well spent. 
How Much Do Pontoon Boats Cost?
A Pontoon can cost you anywhere from 15, 000 USD to as much as 200, 000 USD. That's a pretty wide range. The price really depends on the size, how much you accessorize your Pontoon, and how you want to improve your engine and specs. But for your regular models expect to see prices of about 18,000 USD to 60,000 USD. 
If you're low on budget you can get the cheaper ones and then add on various accessories over the years.
However, if money isn't a problem for you then you can go all out and get luxury models with hundreds of features and amazing build quality.
Not to mention the higher-end models have a great engine that will give you a much smoother ride. 
Do Pontoons Hold Their Value?
No, unfortunately. Like with any motor vehicle, a Pontoon boat does depreciate in value over time. If you're thinking of selling your boat after a while, then you probably won't get your money back. It'll sell for much lower than you bought it. Once you have driven them, they have already lost some monetary value. 
Your pontoon will usually depreciate quite rapidly in the first few years that you own it. But after that though, it does not depreciate much and will start to hold stable after about 12 years.
But people don't usually buy a Pontoon thinking of this. Since you will be getting a lot of activities and fun out of it, you're the one who decides its value. 
Conclusion
Now you know all the different ways you can use a Pontoon boat and the reasons why they are amazing. So, it should be clear to you by now whether or not are pontoon boats worth the money.
They are great investments and will last you a long time. You can use them to have a ton of family fun and all the use you get out of it makes it completely worth it.