If you're looking for a quality paddle board, choosing the right one is essential, which means knowing what is vital to look for.
In this article, I'll compare and contrast the two most popular paddle boards – the Bote vs Body Glove SUP.
Both boards boast tons of unique features and have something to offer everyone. Bote boards focus on simplicity, while Body Glove loads its products with features. So, it can be challenging to choose the right one.
I'll discuss the different features of each board and provide you with a recommendation based on your specific needs.
So, whether you're looking for a beginner's board or something more advanced, read on to find the perfect paddleboard! So, without further ado, let's get right to it.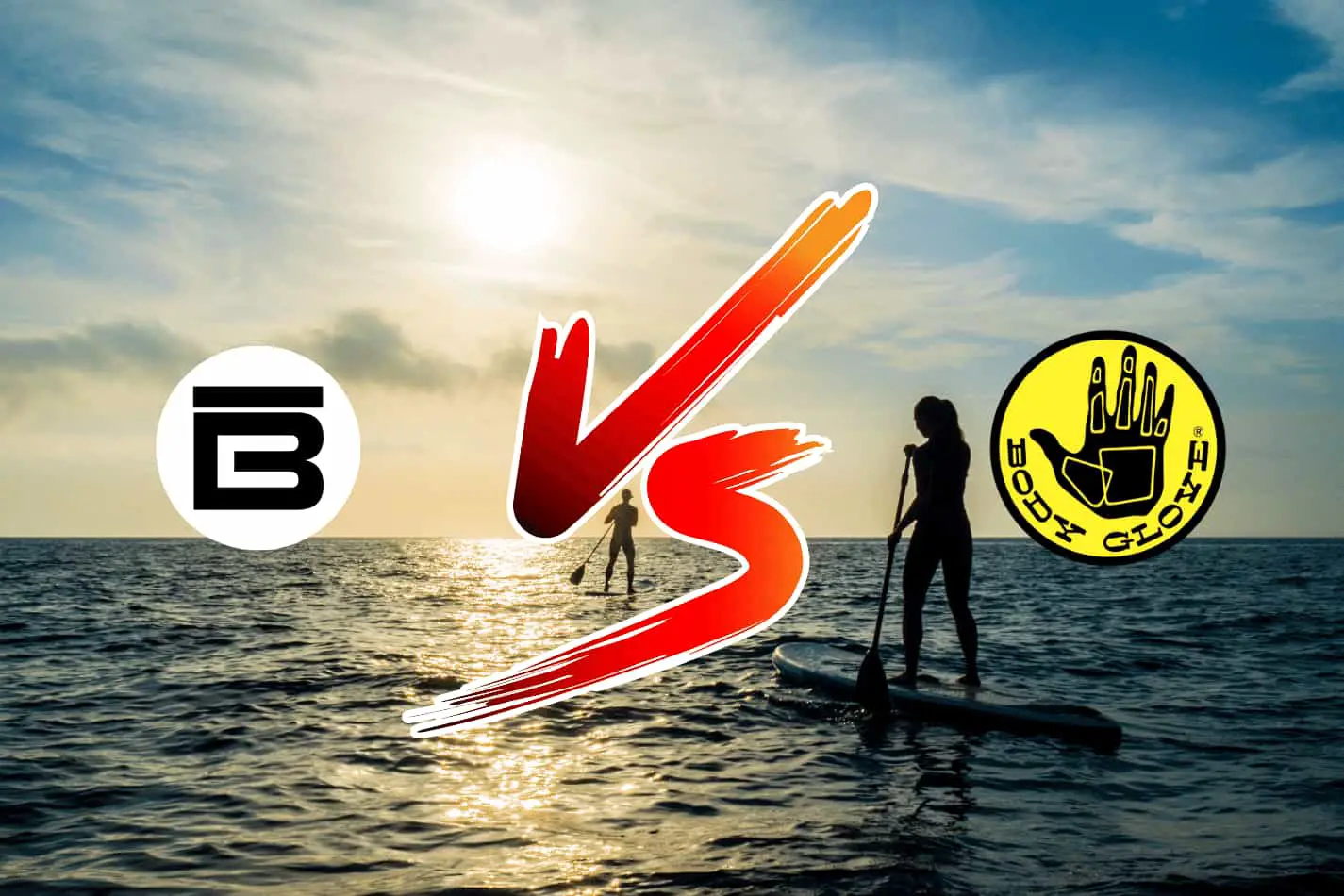 Bote Vs Body Glove Paddle Boards
Both Bote and Body Glove are renowned names among paddleboard manufacturers. However, like any company, Bote and Body Gloves have some specific features to offer to their clients.
They both specialize in certain aspects of a good paddle board design that makes them a favorite among paddle boarders all over the world.
So, let's take a look at the unique features of each:
Bote Paddleboards
If you know Bote, you know they love simplicity. For those who want things simple and easy, there is no alternative to Bote. Here are some unique features of Bote paddle boards:
Multilayer Composite Inside
Bote's innovative construction process allows us to achieve unrivaled stiffness in inflatable paddle boards.
The key is the employment of composite fibers to link the bottom and top layers of military-grade high quality PVC.
When inflated to the necessary PSI, the fibers transmit air pressure uniformly throughout the bottom and top surfaces, resulting in a firm, sturdy base.
Impressive Deck Pad
Superior quality deck pads offer unrivaled comfort and grip. Bote used heat-seal to achieve this feat.
Also, the trademarked "B" logo gives Bote's paddleboards a unique look. 
Unique Features
Bote paddle boards have a startling number of new features unique to Bote boards.  You may outfit Botes solid boards in any way you wish for the activities you enjoy.
Bote paddle boards are extremely strong and durable. They are made of high-quality PVC and the best quality materials and are fully capable of taking the beating when going gets tough.
When you inflate them to the right pressure, Bote boards are so stiff that many people believe they are solidly built.
Superior Style
Bote has developed state-of-the-art technology to print various designs and textures on its boards. No more dull colors on Bote paddle boards, unlike others.
Easy Transportation
Bote paddle board portability is evident. You can take them with you even if you have a small car with no roof mounting or use public transit. 
If you're on a tour of the islands or own a boat, Bote paddle boards can be your companion everywhere.
Body Glove Paddle Boards
The name Body Glove is synonymous with unique and top-of-the-line features. Let's take a look at some of the unique and super useful features that Body Glove paddle boards offer to their customers:
Front Bungees
The bungee cords also let you securely put a dry bag, water bottle, flip flops, and PFD under the bungee cords.
Triple Fin
The tri-fin design of this board, with three tiny, connected fins, is more common on whitewater SUPs than touring boards.
Although the fins are sturdy and ideal for families that intend to put a lot of pressure on this board, the design has also a notable impact on tracking and stability.
The three fins make it quick and easy to get on the water because no fin setup is required. This configuration is ideal for groups that want to sail about and have some fun on the water.
Large Deck Pad
Body Glove boards have reasonable sizes, providing you plenty of ability to maneuver and grip your feet securely, thanks to the diamond groove EVA traction pad.
There is plenty of space to practice SUP yoga.
Action Mount In The Front
These mounts in front of the board can attach your GoPro camera. This is a fantastic extra function you don't frequently see on other inflatable SUPs.
With this mount, you can record all your favorite moments on the water!
Carry Handle With Cover
Another nice feature of the Body Glove boards is the neoprene cover on the center carry handle.
The strap, in addition to making the board significantly more comfortable to carry any distance, contains a Velcro holster that you can unwind and use to secure a water bottle to the board when paddling.
You can also use it to attach your board to something when not in use.
Strong Nose Bumper
The strengthened nose bumper is a distinctive feature of Body Glove paddle boards and adds to the board's suitability for families with children.
Paddleboards' noses are frequently damaged by pebbles or gravel. The increased strengthening of the nose contributes to the Body Glove board's toughness and will assist in ensuring its longevity.
Triple Layer Stringer
The triple layer stringer on Body Glove boards increases toughness and durability significantly. This feature significantly reduces wear and tear on children and pets.
The center stringer provides additional stiffness.
Which Paddle Board Should You Buy?
From the above discussion of the special and unique features of Bote and Body Glove paddle boards, you should now realize each board's unique characteristics.
Bote boards offer simplicity, while Body Glove boards offer sophistication.
Body Glove boards have many features that Bote boards lack such as a triple layer stringer, action mount in the front, unique fin configuration, etc.
All of these features give the user a lot of freedom, but at the same time, the price also increases. And these features may not be necessary or useful to all, considering the price.
If you want everything your paddle board can offer, you can go for glove boards regardless of the price point. There's a reason Body Gloves has been in business since 1953.
On the other hand, Bote boards are full of simplistic features. Their main goal is innovation and simplicity. As a result, Bote boards are incredibly affordable.
Also, paddleboards by Bote lack any sophisticated and ultra-modern features so as a result, newbies who are brand new to paddle boarding find it easy to learn paddle boarding with Bote boards.
For beginners and people on a budget, Bote boards are godsent. However, that doesn't mean Bote boards are blunt and unimpressive.
Multilayer core provides a firm base and superior comfort for paddlers. Unique designs give Bote boards a great look.
So the bottom line is if you have the budget and are a seasoned paddler, you should go for Body Glove boards.
For beginners and those on a budget, Bote boards should be your pick.
Final Thoughts on Choosing BOTE vs Body Glove SUPs
By now, you know that paddle boards are more than just an exciting mode of transportation.
With their various characteristics and benefits available in a single place, it is no wonder why these extraordinarily versatile products have gained so much popularity in the market.
As far as Bote vs. Body Glove SUP is concerned, I have discussed enough of their features to help you understand which one to pick.
So, consult a reliable seller about which paddles perform well before making your final purchase decision.