With many options available on the market, choosing the best paddle board may seem difficult. Numerous paddleboard brands are out there, and they differ in terms of price and quality.
The Bote and iRocker are both great paddle board brands, but if you choose between the Bote vs iRocker, which one should you choose?
Bote provides its customers with the finest experience with its paddle boards. iRocker believes in providing high-quality boards at affordable prices.
This article will walk you through everything you need to know before purchasing a paddle board, including how to choose between Bote and iRocker.
So, let's get started!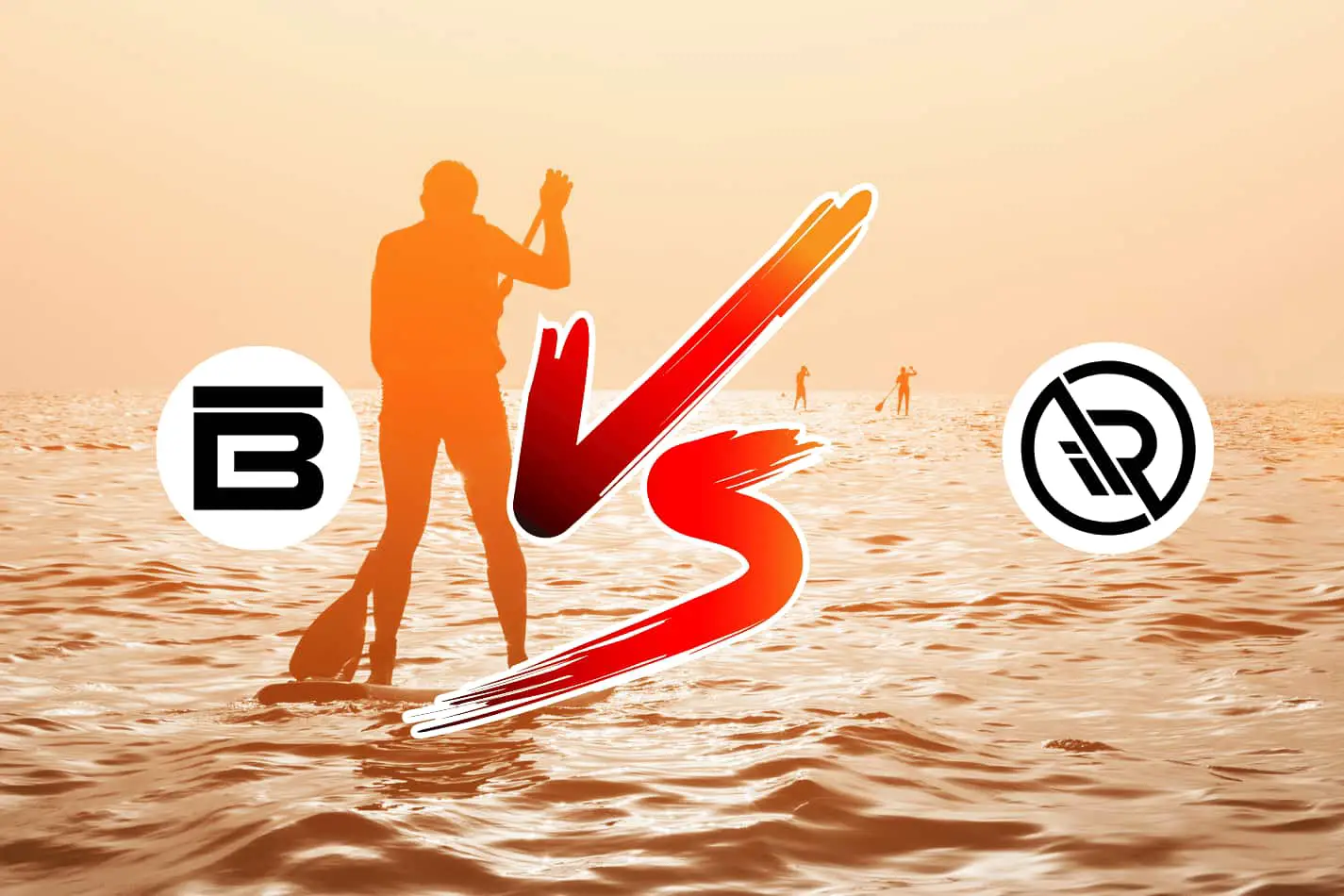 Key Features Of Bote And iRocker Paddle Board
Bote and iRocker are two of the most popular inflatable paddleboard (iSUP) brands today.
Both are great for beginners, but they also have some features that make them suitable for more experienced paddleboarders.
Here are the key features of the Bote and iRocker paddle boards:
Bote Paddleboards
Bote boards are made with a high-quality, durable material that will last a long time. The boards are also lightweight, which makes them easy to transport and travel with.
The key features of the Bote paddleboard are:
Stability And Maneuverability
Stability is one of the most important things to look for in a paddleboard. You want a board that is stable enough to keep you upright and safe but also maneuverable enough to allow you to explore and have fun.
Bote paddle boards are the perfect balance of both. It will give you the stability you need to feel confident on the water while also allowing you to move around and have a great time.
Lightweight
Another critical feature to look for in a paddleboard is its lightweight design. You want a board that is easy to carry and transport and won't weigh you down when you're out on the water.
Bote paddle boards are lightweight and easy to carry, making them the perfect option for anyone looking for a board that is easy to transport.
Inflatable
One of the best features of Bote paddle boards is that they are inflatable. This means you can easily take your board with you wherever you go without worrying about it taking up too much space.
You can inflate your board when you're ready to use it and then deflate it when you're done.
This makes it easy to store and transport, meaning you can take your board with you wherever you go.
Fresh And Saltwater Compatible
Another great feature of Bote paddle boards is that they are freshwater and saltwater compatible.
Hence, you can use your board in fresh and salt water, and you don't have to worry about it being damaged.
You can use your board in the ocean, in a lake, or a river, and you can be confident that it will withstand the elements.
iRocker Paddle Boards
iRocker paddle boards are some of the most popular and reliable on the market. They are known for their high-quality, durable construction and affordability.
Some of the key features of iRocker paddle boards include:
Electric Pump
The electric pump with iRocker paddle boards makes inflating your board a breeze. Plug the pump into a standard outlet and watch as your board inflates in no time.
The pump also includes a gauge to keep track of the pressure as you inflate easily. With these features, you can be on the water quickly.
Includes A Backpack
Most iRocker paddle boards come with a backpack that makes storing and transporting your board a breeze.
The backpack is also great for carrying any other gear you might need for a day on the water. You can throw it over your shoulder and go.
Inflatable
Most iRocker paddle boards are inflatable, so they're easy to carry around when deflated. But they will still be sturdy enough to support up to 400 pounds while inflating.
This makes them ideal for paddling on lakes and taking them with you on vacations.
Come with Three Fins
Most iRocker paddle boards come with three fins, which help to provide stability and tracking. The fins also help protect the board from damage when paddling in shallow waters.
These fins are removable. So, if you want more control over your movements while paddling, you can remove them before getting started.
Differences Between Bote And iRocker Paddle Boards
Both brands offer high-quality paddle boards that are perfect for a day out on the water, but there are some key differences between them that you should be aware of before making your purchase.
First and foremost, let's talk about value. Bote paddleboards are generally more expensive than iRocker paddleboards, but they are also made with higher-quality materials and construction.
When it comes to shipping, Bote wins. Bote ships their paddle boards anywhere in the world. iRocker only ships its boards to certain countries.
Finally, iRocker paddle boards come with a two-year warranty. But Bote gives only 90 day warranty on their products.
Bote vs iRocker – Which Is the Better Fit for You? 
The best paddle board will be one that fits your needs and wants. When it comes to paddle boarding, there are a lot of different factors that go into choosing the right board for you.
To help you make the best decision for you, here is a quick guide on how to pick the right paddle board between Bote and iRocker:
Built Quality
When you're looking to buy paddle boards, one of the most important factors to consider is the built quality.
You should make sure that the paddle board you're considering is well-built and durable to withstand the rigors of paddling.
If a company makes its boards with poor materials and construction, they probably won't last very long. Look for ones with maximum durability. In terms of built quality, Bote is better than iRocker.
Price
Price is always a factor to consider when making any purchase. You want to find a paddle board that fits within your budget. But it's important to remember that you get what you pay for.
So, if you're looking for a high-quality paddle board, you will have to be willing to pay a bit more. And Bote paddle boards are usually more expensive than iRocker paddle boards.
Where Are You Paddling?
Another thing to remember when you're looking for a paddle board is where you will be paddling. If you plan to paddle in freshwater, you don't need to worry about getting a board built for saltwater.
But, if you're planning on paddle boarding in the ocean or saltwater, you will want to ensure that you get a board built for that. Bote paddle boards are both fresh and saltwater compatible.
So, you can take them in both fresh and saltwater.
Transportation And Storage
Transportation and storage are also important considerations when shopping for a paddleboard.
Inflatable paddle boards can be easily deflated and stored in a small space, making them ideal for traveling.
However, solid paddle boards can be more difficult to transport and store. If you don't have a lot of space, an inflatable paddle board may be a better option.
As Bote and iRocker both have inflatable paddle boards, you can easily transport and store them.
Company Reputation
Another vital factor to consider when choosing a paddle board is the company's reputation.
You want to make sure you're buying from a well-known company that produces high-quality products.
Research to see what other people say about the company and its products. Regarding company reputation, Bote is a more reputed brand than iRocker.
Final Thoughts When Choosing A Bote vs iRocker Paddleboard
When choosing a paddle board, there's no fixed answer. It boils down to your personal preference and what you plan to use the board for.
Based on the information above, I think you now choose between Bote vs iRocker paddle boards.
If you want a board that you can use for various paddling styles, then Bote is an excellent option.
But if you're looking for a cheaper board that's easy to maneuver, then iRocker is a good choice.