Paddleboarding is a new form of outdoor activity, and it's easy to see why. It combines paddling with surfing in an easy-to-learn, low-cost way that anyone can enjoy!
There seems to be a schism between people as to barefoot or footwear, so do you paddleboard barefoot?
Most paddleboarding is done barefoot as you get a better feel for the board and your balance, this can help give you better stability especially when new. As weather occurs though shoes can help keep your feet warm along with a better ability to maintain grip which can make them valuable.
In this blog post, we are going to talk about footwear and after we have convinced you of barefoot is amazing we will discuss 5 benefits to control when you paddleboard barefoot.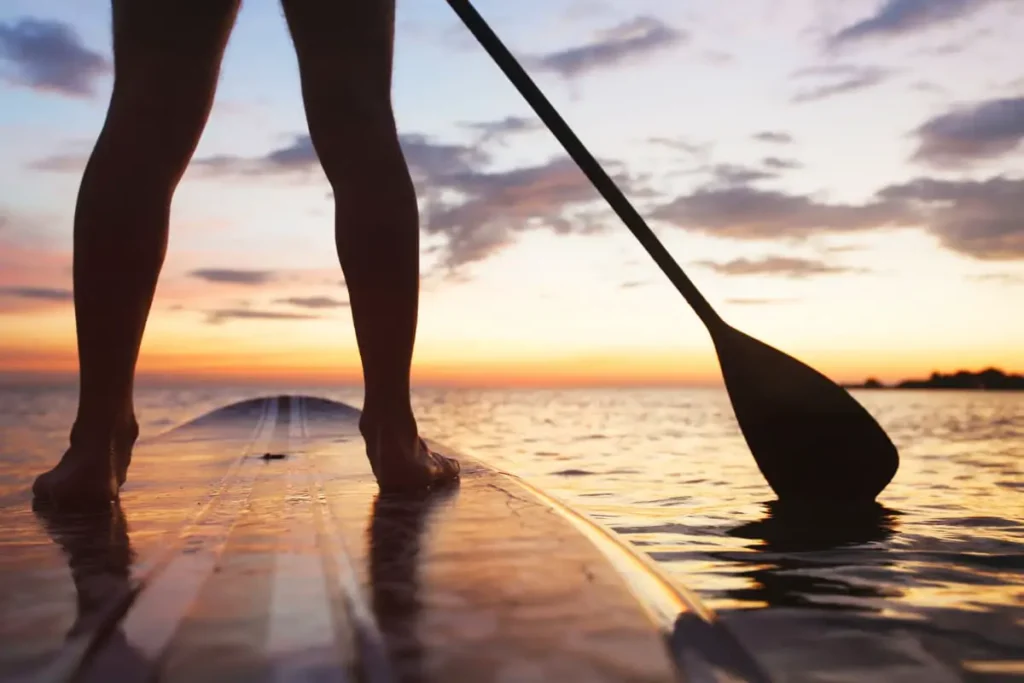 Why Choose Barefoot Riding?
Many people who like to paddle in flat water, do cross-training, are serious racers, and do yoga prefer not to wear any shoes and go barefoot.
Stand-up paddleboarding, or SUP, requires muscles in your feet, so they consistently adapt helping to control your balancing while you are on the board.
The grip on the top of paddle boards is typically designed for bare feet, so if it is warm outside you don't and shouldn't need to wear any shoes. 
Wearing shoes for many will interrupt this connection and can lead to falls from the board more frequently, which leads many to choose shoes only when the weather dictates.
Paddleboarders have reported many benefits to barefoot boarding, including feeling more balanced and secure when making turns.
What happens though if you prefer to wear shoes, or like me seem to be eternally struck by the sun causing burns by merely peaking out and spotting the sun, can You Wear Water Shoes on a Paddle Board?
Can You Wear Shoes to Paddle Board?
Paddleboarding requires using the muscles in your feet and toes so they consistently adapt helping you control your balancing on the board.
Wearing footwear for many may interrupt this connection and can lead to more falls from their boards more frequently.
Should you choose to wear shoes, the most important thing to remember is that they need to be water-friendly shoes like these types:
Each of these will have its own benefits like protecting the feet from sunburn injury and giving good comfort that many are used to in their daily lives.
There are many shoe options that you can choose if you decide you are interested in wearing shoes while you paddleboard, below is a good choice:
Astral Hiyak Outdoor Minimalist Boots
VITAL QUICK-DRYING HYDROPHOBIC CANVAS
You'll get the stability and protection that a shoe provides without any of the neoprene, which makes it lighter, more durable, and fast-drying.
How Do I Keep My Feet Warm While Paddle Boarding?
One thing most riders need is to keep their feet warm when paddleboarding which can be accomplished in many ways.
The most common is to add shoes and possibly neoprene socks in addition to an inflatable paddleboard to give layers of warmth.
This will help keep your toes warm when you are wet, without having to worry about messing up your paddleboarding gear with anything other than what comes off naturally in saltwater: sweat, sunscreen lotion, and bug repellent.
Keep the following in mind to be warm on your paddleboard adventures:
Bring an Inflatable Paddle Board (iSUP): Most iSUPs are thicker and due to the air have a higher insulation value versus hard SUPs. This will tend to keep your feet drier as they are kept further from the water.
Launch Fin First: This will require some solid practice prior but if you can launch in shallow areas and then turn on the board you will have a much better chance for drier feet.
Keep Fidgeting: The continual motion of wiggling your toes and moving your feet will help continue to circulate blood and will therefore give you a better chance to keep warm feet and toes.
3 Benefits to Bare Foot Paddle Boarding
There are a few very core benefits to running your paddleboard with bare feet that you want to consider prior to deciding you want to go the shoed route.
Cost Free
Unlike shoes, you don't have to pay anything to use your feet, for many shoes your costs will add up from the associated costs as well as unintended board wear and tear from the soles.
Better Overall Board Control
Unlike shoes, with your feet and toes, you have amazing control. You see when riding your feet and toes being free allows you to use all the muscles to better grip and control the board movements.
Ability to Stick the Your Board
Let's face it, the board is built for bare feet use in the first place and your feet are super at helping you grip and maintain a connection with your board.
All those ridges and grooves in the skin make for an excellent attachment to the paddleboard.
Final Thoughts on Barefoot Paddle Boarding
I am so excited to have learned about the benefits of paddleboarding barefoot. I hope this blog post was helpful in understanding the potential benefits and risks of barefoot paddle boarding.
If you are considering starting up with paddle boarding, or if you already do- please give your feet some love and try paddling board without any shoes for a while.
You may find yourself feeling less stressed out from soreness in your feet and getting an all-around better experience from the sport than before.
If you are just starting to look into paddleboarding we have a wide selection of guides to help assist you in finding the best option to suit your needs, check them out here!
Let us know what you think by leaving a comment below!