Paddle boarding can be a lot of fun, but there are some risks you should know about. Paddle boards are not made to carry cargo and if you have anything that is not waterproof (like your phone or wallet) it will get wet. This blog post shares how to keep your non-waterproof gear dry while paddle boarding so that you can enjoy the day without worrying about losing your valuables!
To keep your gear including phone safe and dry while paddle boarding you want to invest in a waterproof case, box, or dry bag that can ensure your gear safes dry while submerged over time keeping it safe and preventing loss.
Many will want to bring their gear with them for many reasons but one of the top concerns is that it helps to ensure they are safe along with in their control. There is nothing worse than having things stolen from your car while you are gone.
6 Key Reasons Paddle Boarders Bring Phones:
Take Photos & Videos – The biggest thing in the world today is TikTok and YouTube and Instagram, platforms to showcase where and when you go throughout your day so having a phone on you allows sharing of these trips.
Use an Exercise Timer App – Exercise apps are a great way to keep track of your time and set goals, but requires you to have your phone accessible.
Use a Navigation App – Some will need to use a navigation app while on the water to ensure they go the right direction.
Listen To Music – Listening to music is what can make a paddle board trip better.
Safety/Emergency Use – Being able to call or text for help in an emergency is important as long as you can get signal, the only better signal device would be a personal locator device.
Avoid Theft – We all know that you can't or shouldn't just leave your gear in your vehicle as it is just too simple to steal if the right person comes across it.
How to Protect Your Cell Phone on a Paddle Board
When you bring your phone with you on a paddle board, there are some steps you can take to make sure it stays dry. First of all, put your phone in any waterproof bag, case, or in a pinch a ziplock bag.
Preferably you want to choose a option that is specifically designed for the activity and seal it tightly shut.
While on the water, keep this container sealed closed so that no water is able to get inside to ensure your gear stays clean and clear.
You should also be aware that even if your phone does stay dry while out on the water, other things like sand will still cause issues later on when plugged back into power sources. In order to protect against these adverse effects, use one of those handy dandy lint rollers (you know what they look like) and gently move
Best Overall Option: Waterproof Phone Case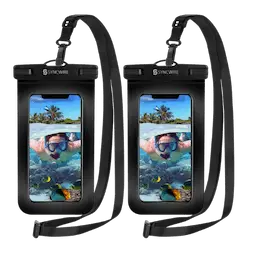 Syncwire Waterproof Phone Pouch
Universal IPX8 Cell Phone Waterproof Case
With excellent waterproof seal performance (IPX8 rating), this 100% sealed waterproof bag provides comprehensive protection for devices in a variety of environments
Product Benefits:
IPX8 certified waterproof, keeping your phone safe and dry up to 30 meters underwater
Special made secure snap-and-lock system ensures superior water resistance, security, and dependability
On Person Carry: Waterproof Dry Bag & Neck Case
KastKing Cyclone
100% Waterproof Bag with Phone Case Important Feature
Designed for active water sports and dusty environments the KastKIng Cyclone Seal dry bag is rugged, flexible, and abrasion resistant.
Product Benefits:
KastKing Cyclone Dry Bag seal system provides an extra layer of PVC to ensure a best-in-class waterproof seal on a dry storage bag.
Tough, resilient Spider buckle will not fatigue and break. Heavy duty self-locking clips will hold oversize loads.
On Board Carry: Waterproof Hard Case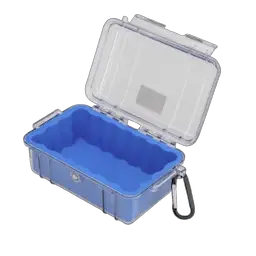 Pelican 1050 Micro Case
Water Resistant (IP67), crushproof, and dustproof protection
Automatic pressure equalization valve (balances interior pressure to keep water out)
Product Benefits:
Water Resistant (IP67), crushproof, and dustproof protection for your iPhone, cell phone, camera, GoPro or other portable electronics and valuables.
MADE IN USA: Trusted protection in use by the military, divers, first responders (fire, police, EMT) since 1976
Pelican's Lifetime Guarantee of Excellence
Now having the holder for your gear is good and necessary if you will carry it with you but you should always test any "waterproof" gear thoroughly before using it out in the real world as you don't want it to fail you in a catastrophic manner when a critical moment happens!
Validating Functionality of Your Waterproof Phone Case or Other Holder
To test your waterproof phone case there are a few steps you can take that should let you know if your case is waterproof. Take care this first time you won't be putting in gear you want to protect and will use a tissue in place.
Put tissue paper inside the phone case, waterproof bag, or other protective method
Fill a sink, or if bigger is needed, bathtub, with water
Submerge the protective gear with the tissue inside it
You will need some weight to keep it underwater (anything of decent weight)
Keep case submerged for 30 minutes on first test or if you want extended up to 1-2 hours.
Once you finish this test you will know if the case is waterproof. If you have a tissue in your bag, case, etc, and it isn't showing signs of being wet, then your gear should be safe!
Final Thoughts on Protecting Gear on the Water
It's hard to keep your cell phone, wallet and other important items dry while paddle boarding. This is especially true if you are on a stand up board with nothing around to hold onto or put them in.
We've found an awesome solution for this problem- the Syncwire Waterproof Phone Pouch! The case will fit most phones and can be worn around your neck to help make sure your phone doesn't fall out when you get off the board, no matter how wet or slippery things get.
If you are just starting to look into paddleboarding we have a wide selection of guides to help assist you in finding the best option to suit your needs, check them out here!
What do you use to protect your gear? Let me know in the comments below!