It's not an easy feat to keep a pontoon boat in tip-top shape at all times. But without proper maintenance, it doesn't take long for these boats to become super fragile. Fortunately, a little renovation and refurbishment can revamp them right back up. And that brings up an interesting question – how much does it cost to refurbish a pontoon boat?
Depending on the severity of the refurbishment, you may have to spend quite some bucks. Starting from just $500-$1000, it can go up to about $3000-$5000 as well. Especially if you're using top-of-the-line components and premium-grade furnishings.
However, don't worry if the price seems way too much. You certainly can dial it down by simply being a little smart about the costs. And that's what today's article is all about.
So, let's first find out what you need to do to renovate a pontoon boat. That way, you can figure out the related hidden costs and pinpoint the deciding factors to bring the cost down.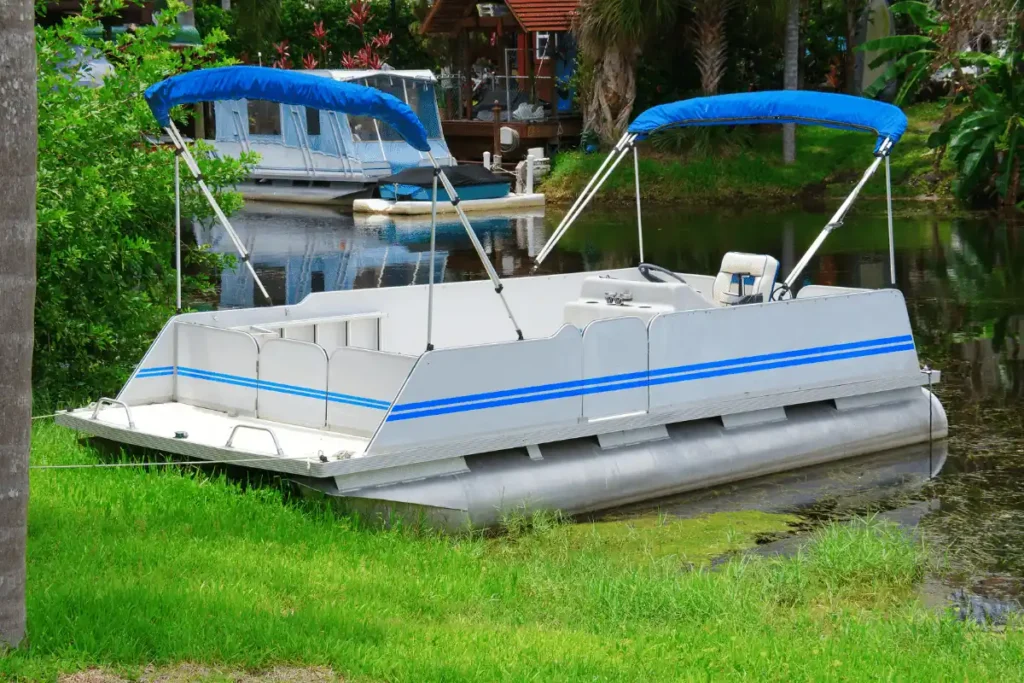 Tips On Renovating A Pontoon Boat
When it comes to renovating pontoon boats, you need to focus on some specific components of the boat. Here are a few tips on how to deal with those factors.
Get Rid Of The Old Furniture 
If you haven't been maintaining your pontoon for quite a few months, you won't find the furniture in peak condition. Not even if they were top-of-the-line furniture made with really great materials. 
Without proper maintenance, furnishings just can't last that long. Especially if you kept the pontoon out in the open for a long time. All the rain plus sunlight over the span? Yeah, it's highly unlikely any furniture can survive that. 
And don't think metal or hybrid ones are any better. They will either rust or have dents from all the crookedness. So, that's neither safe nor usable anymore.
Unless you want to get a tetanus shot, it's best to just outright dispose of them and make a fresh start. If you think it's possible to salvage them, then you can go down a different route.
I highly recommend not taking any risky chances.
Get Rid Of The Upholstery
As furniture, it's not like the condition of the upholstery is any better. Nothing stays good without proper maintenance and perseverance. So, you kind of need to get rid of them too. For instance:
Stained & Damp Carpet
Leather Covers [Or any types of cover for that matter]
Rotten Ropes/Sheets
Tablecloth
Hanging Banners
Cabinet Clothes, etc. 
Anything that went through the wrath of natural calamities, has to go. And by calamities, I'm referring to the constant exposure to sunlight, rainwater, and saltwater from the sea.
It's pretty hard to recover from the damage done by regressive dampness on soft texture.
Remove The Decking
Time to strip off the next big layer – the decking itself. Like the furnishings, the decking too, has possibly gone through irresponsible damage. 
So, if you see visible cracks and dampness in the decking, get rid of it too. Again, you could check from prominent decolorization on the deck. That's a sure-fire way of knowing how much damage the deck has suffered over time.
Deep Clean The Framework
After stripping everything down to the structure, it's time for a deep cleaning session. It's best to hire a professional cleaning crew for this step of the way.
Because they usually have the equipment to thoroughly get rid of all the dirt and debris. Again, if there are any distinguishable rusting issues, they can help out with that as well.
Install The Brand New Flooring & Furnishings
Now that you have a clean slate again, you get to decorate it however you want to. Buy all of the new furniture and upholstery to bring back new life into the pontoon boat.
But before that, don't forget to install the new flooring, of course. After all, a large and clean deck is what makes a pontoon boat feel so spacious and delightful.
This time around, tell the crew to install a protective layer as well for easy maintenance and cleaning. 
Costs Related To Pontoon Boat Renovation
So far, you have found out about all the absolutely necessary refurbishment factors. But unfortunately, they sometimes don't just end there. Here's a brief overview of the necessary costs related to pontoon boat renovation. A few hidden costs have been included as well.
Carpeting Costs: Believe it or not, carpeting the deck costs way more than any other refurbishment items on this list. Depending on the size of your deck, it can take at least $300-$500 alone, if not more. The bigger the deck, the higher it goes.
Especially if you're thinking of going down the Vinyl flooring route. They are super durable, yes, but can cost up to 1200-1500 dollars.
Crew Costs: For cleaning and installing the deck, upholstery, etc. you will need to hire a professional crew. And they will charge you any amount from $200 to $500 depending on the intensity of the services.
Furnishing Costs: If you're thinking of decorating the pontoon boat, you should set aside another 400-500 bucks for that. After all, leather covers come anything but cheap.
Helm Console Costs: If the control center of your boat seems damaged, you will have to get a new helm console too. You'll need to spend around $300-$400 for that, and slightly more if you're buying exclusive ones. 
All in all, you can see that the overall costs can go well over 3000 bucks. And it can go up to $4000 if you consider the year-long maintenance and fuel costs. 
How To Reduce Pontoon Boat Renovation Costs?
Finally, the most awaited part. You already know how to renovate a pontoon boat by now. You also know about the renovation costs. And it's most definitely not cheap.
So, here are a few ways how you can try to reduce the costs of pontoon boat renovation:
DIY Renovation
That's right. Hiring a separate company/agency will drain your pocket out pretty quickly. Without them in the picture, you can easily save up 500-600 bucks.
You'll, however, need to know to do everything on your own. Only take this risk if you know the mechanism of pontoon boats inside out, because otherwise, you'll have a chance to screw up even more.
I personally don't recommend skipping on the professionals, just to avoid this.
Second-Hand Parts
Instead of lavish furnishings, you can settle for some not-so-new ones too, right? At least this one seems more manageable than the previous one. 
Also, just because something's second-hand, never means that it's of bad quality. If you look hard enough, you can find some absolute gems while thrifting out there. You can get high-quality coverings, upholstery items, etc. for practically half the price too. 
Try to not go for the second-hand mechanical parts, though. Like the helm console, engine, etc. Because they can wear out pretty quickly in a new system.
Only thrift the items that won't have any long-lasting effect on your newly furnished precious pontoon boat. 
Conclusion
So, how much does it cost to refurbish a pontoon boat after all? Quite a lot. But, you can definitely bring down the costs to around just $500-$1000 bucks if you put your mind to it. 
Provided that you're ready to compromise on the lavish refurbishment, of course. But hey, a pontoon boat isn't all about the decoration. As long as it's properly functional, you don't need anything else to enjoy a blissful ride on it.