With summer around the corner, you may wonder about doing some of the best water activities. You may also find yourself wondering about what are the benefits of water sports.
Therefore, water sports seem to have more physical and mental health benefits than one may think.
Several benefits can come from water sports activities. Water sports can boost mood, ensure cardiovascular health, increase flexibility, and enhance mental health.
Water sports are recreational activities that let you do and experience new things. From swimming to kayaking, there is no limit to fun when it comes to water sports activities.
So, if you are new to this concept, let's get familiarized with the benefits and types of water sports activities.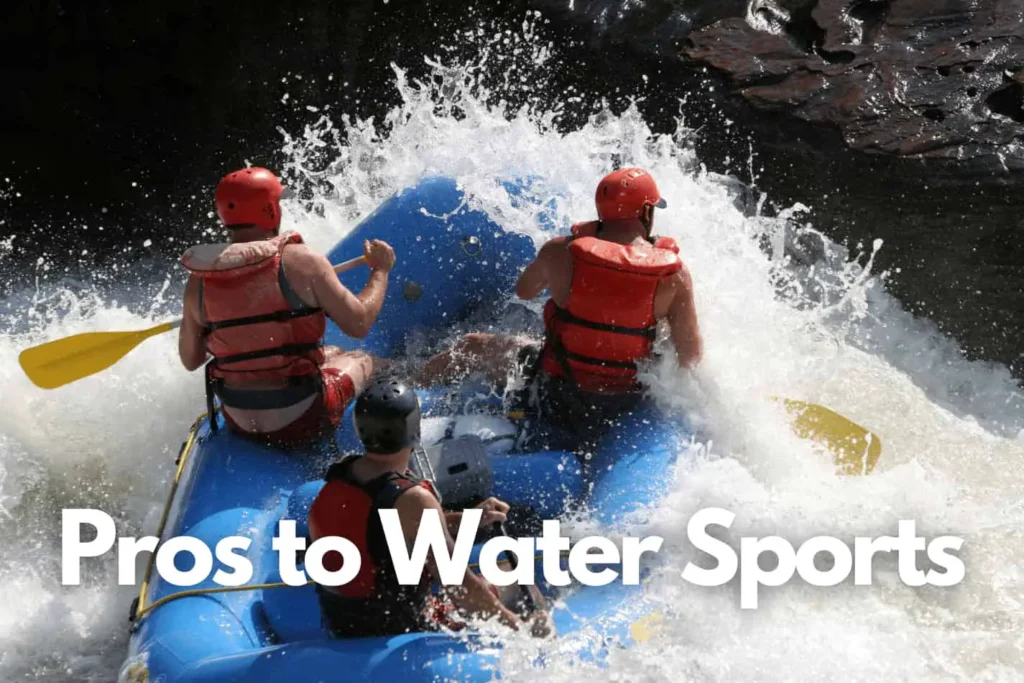 5 Benefits From Participating In Water Sports Activities
Water sports activities are like a day full of fun that helps to boost your physical health and heal your mind. These water activities also have the potential to reduce severe health hazards. Overall, it helps you have a wonderful time with friends and family.
So, you need to do more water sports instead of being at home. You do not want to miss out on water activities' freedom, mental wellness, and tranquility.
So let's get right into the possible benefits of water sports activities.
Reduces The Chance Of Chronic Diseases
One of the huge benefits of watersports activity is the reduction of chronic diseases. Water sports activities are fun and can help you increase your metabolism.
In addition, the immunity system can also be enhanced by doing watersports. Water activities can also lessen the risk of a possible heart attack.
Moreover, when doing water sports, you also burn a lot of calories. Therefore, this natural way of burning calories by being energetic reduces the chances of chronic disease.
By doing watersports, your blood vessels will have less chance of clogging. Moreover, the recreational aspect of water sports helps to relax and lower stress. Accordingly, this helps in maintaining chronic diseases like hypertension and diabetes.
Blood flow can also run smoothly when you do a healthy dose of water sports activities. You do not have to do some high-intensity water sports to reduce the chance of chronic disease. Rather simple surfing, swimming, skateboarding, and so on can strengthen your heart or lungs.
Improves Bone Density
Another benefit of water sports activities is the improvement of bone density. Water sports activities increase the mineral content in your bone and thus help bone density.
Moreover, with the improvement of bone density, your overall bone health gets strengthened. Therefore, water sports like canoeing, swimming, paddling, and so on will be the best options for improving your bone density.
Improves Joints Flexibility
The water sports you do while being in the water help lubricate your joints properly and give your joints more flexibility, mobility, and so on.
In addition, the weightless feeling that can be derived from doing water activities can make your joints feel relaxed. 
Because water sports lessen the weight off your joints, you feel more at ease and relaxed. Moreover, flexing joints will also allow you to have an increased range of motion. 
Water sports like swimming, snorkeling, water bikes, paddling, and canoeing are the best for improving joint flexibility.
In addition, diseases like arthritis can also be treated with water sports. There is even a treatment called hydrotherapy, one kind of water activity for people with arthritis.
Improves Mental Health
Nothing is more relaxing than water activities. Being in the water helps to make you feel rejuvenated and relaxed. Moreover, being outdoors and close to nature also comes with water activities. 
This helps to heal your soul and mind. One can even regulate mood correctly with water activities. Water sport is the best stress reliever that has a soothing effect on you.
It helps to boost your mood and makes you feel more grounded in nature. 
In addition, when you are with your friends doing these water sports activities, you surround yourself with positive energy, good vibes, and happiness. 
One can feel more energized and at ease with oneself after a regular dose of water activities. Your cognitive skills can also be enhanced with appropriate water sports activities.
Increased Caloric Burn
Water activities can also help you to keep in shape by burning extra calories. You need a lot of muscle movement for water activities. All these muscle movements will lead to the burning of calories. 
In addition, your heart rate can also increase and strengthen when you are doing water sports activities. Accordingly, this will also help ton your body muscles and burn calories.
What Are The Best Water Sports Activities?
Who doesn't want to spend time in the water doing playful activities with close ones? From something as simple as swimming to complex water sports activities like water skiing, the variety of water sports will make your life more interesting.
You do not want to miss out on the thrilling, freeing, and unique experience of water sports activities.
However, the lack of knowledge in being aware of the several different water sports activities may retain you from having fun. Therefore, let's get right into the list of water sports activities.
Swimming
One of the best and most traditional water sports activities is swimming. It helps to make sure that your cardiovascular health is in check.
Strengthening muscle, building strength, maintaining healthy lungs or heart, and so on are also achievable by swimming.
It is an instant mood booster whether you want to swim alone or with your friends and family. Moreover, it also gives you more endurance and freedom. 
Canoeing
Canoeing is another great water sports activity with friends and family. Your exploratory nature can be heightened by doing this particular water sports activity.
This outdoor activity improves your cardiovascular fitness and increases your body's metabolism.
Accordingly, all you need is a small boat paddling across the water to experience nature's excitement, adventure, and soft breeze.
Surfing
Surfing is a high-intensity water sport, but it helps you work out your muscles to seek balance while moving on a surfboard.
It also helps you to get your heart rate up and going with all the muscle movement. This eventually helps to keep your body in check and your mind at peace.
Surfing is also a great water sports activity due to its calming effect on your mind and heart. It also helps you to regain coordination and to find balance.
Water Skiing
Water skiing is the best water sports activity to tone your muscles and enhance your motor skills. This is also an instant mood changer that helps you to engage in fun activities with your friends and family.
Accordingly, this is a water activity that requires you to be towed to a boat that will pull you across the water's surface. This will thus help with your leg muscles and strengthen your core.
Final Thoughts on the Benefits Of Water Sports Activities
With a huge variety of water sports activities, it is okay to find yourself wondering about what are the benefits of water sports.
Accordingly, water sports activities are more fun than you may think. Its benefits are also endless that have a soothing effect on you.