Pontoon boats are getting popular among boat lovers day by day. They are an excellent choice for going fishing or hosting a small BBQ party with family and friends. However, with so many options in the market, choosing a pontoon boat is a pretty daunting task. So, if you are asking, "What size pontoon boat do I need?" – keep on reading.
You have to consider the size, length, and weight of the boat, the purpose of using the boat, seating capacity and configuration before selecting a pontoon boat for buying. Besides, pontoon tube size, engine, number of pontoons, etc., are a few essential things to consider as well.
Not only these but there are also many other things that you must keep in mind for selecting the best pontoon boat for you. These boats come in various sizes, lengths, types, and prices.
So, in this article, I will discuss how you can choose the ideal pontoon boat for you, along with some other information that might be of help to you.
How to Choose the Right Pontoon Boat for You?
For choosing the right pontoon boat for you, you have to consider the appropriate size, length, and weight you need. Moreover, you must consider the material, build quality, engine type, etc., before buying one.
No wonder you would want the best deal for yourself while buying the pontoon boat. Thus, it is a must to know a few things before finalizing your purchase. So, here are a few things to consider for choosing the right pontoon boat for you:
Size of the Boat
The size of the boat is one of the most important things that buyers must consider before purchasing the boat. The deck offers usable free space on the boat.
Therefore, the size you choose should be determined by the water body you will be using it in and the number of people you will be bringing along on your boating adventures.
The following table shows the required size of the boat based on the body of water and the number of people it can accommodate:
| | | |
| --- | --- | --- |
| Size | Number of People | Body of Water |
| 16 to 19 feet | Up to 8 | Small and calm |
| 20 to 22 feet | Up to 13 | Lakes and rivers (Don't have large waves) |
| 23 to 27 feet | Up to 15 | Rough water |
If you are wondering, what is the average length of a pontoon boat offered by sellers, it is around 20 ft. – 25 ft. While choosing the size of your boat, don't forget that the bigger the boat, the more it will cost you in the future.
For example, you will need more money for more storage, fuel consumption, insurance, mooring, and maintenance if you buy a larger pontoon.
If you are buying a pontoon boat for the first time, I would suggest you begin with a smaller boat. It will help you to learn how to drive, handle, and maintain a pontoon boat without blowing your budget.
Most of the people who purchase a boat later upgrade to a larger model after gaining experience.
Weight
First of all, the dry weight of your boat, and also the overall weight of your boat and trailer, is important to know while towing your boat.
Remember while buying a pontoon boat that your boat's speed is directly proportional to its weight. It will run slower for the same power if it is heavy. Moreover, you must always know the amount of weight your boat is carrying to guarantee that it functions properly on the water. It will help you not to exceed the safety rating of the vessel.
The average dry weight of a pontoon is about 2200 pounds. If you combine the trailer's weight with it, you obtain a total weight of roughly 3400-3600 pounds. Also, you have to consider adding 1400 pounds for the motor and accessories, plus 500 pounds for a safety margin.
It makes the net towing capacity requirement of 5500 pounds. Generally, a towing capacity of 5500 to 6000 pounds is regarded as adequate. So, consider buying a pontoon boat that has a dry weight of around 2200 pounds.
Main Purpose of the Boat
Well, your purpose in buying the pontoon boat is no doubt to be your most important consideration. Think about purchasing a boat with facilities that complement your favorite hobbies.
If you are buying a pontoon boat for water sports such as skiing, tubing, diving, and other water activities, choose a boat with convenient access in or out of the water. You will also require a powerful motor that can quickly transport you to the depth you want.
On the other hand, if it is for wakeboarding, water skiing, or any other sport that requires being towed, you should buy a boat that has a faster engine.
You won't require a powerful engine if your primary purpose is to go fishing. Concentrate on the deck area and specific fishing equipment, for example, a rod holder, fish detector, live well, and fishing seats.
Now, you can also stress less on the power of the engine and choose a boat with plenty of conversational seats if you'd like to accommodate a huge group of pals. A boat with a built-in cooler and food and beverage storage is also a good option.
Besides, pick a well-padded sundeck for relaxation if you just want to utilize your boat for sunbathing and resting. It is a major plus if the yacht has an integrated sound system.
However, don't be concerned if you intend to participate in most of these activities. Pontoon boats are pretty versatile. Thus, you don't have to give up one hobby to make room for another.
Instead, consider if the boat you purchase can be fully utilized for most of the activities you intend to undertake.
Number of Pontoons
You can decide whether you need two or three pontoons once you've determined where and how you will be using the boat.
Well, if you are okay with slow speed, twin pontoons are ideal for you. They are not only perfect for traveling but also excellent for swimming and entertainment. Moreover, it is also possible to upgrade a twin pontoon by adding a larger engine to make it slightly quicker.
On the other hand, although the boats with three pontoons are expensive, they are very fast. A tri-toon boat, when effectively fueled and supported, can move fast like many sports boats. So, it can be ideal for tubing, water skiing, and wakeboarding.
Type of Engine
You have to choose an engine that is appropriate for the boat's intended use. As I have mentioned earlier, a less powerful engine will suffice if you only require the boat for sailing.
However, the amount of power necessary for twin toon boats varies depending on the speeds and load capacity you require. A twin toon boat with 50 to 60 horsepower will reach speeds of 15 to 16 mph. Moreover, adding a larger engine and cranking it up can help the boat go quicker, but only slightly.
On the contrary, a tritoon boat with 150 horsepower is ideal if you wish to go quickly to tow in tubers and water skiers. Generally, engines with 300 horsepower can be used in bigger tri-toons.
Well, pontoon boats are difficult to accelerate. Thus, high-torque outboard engines are pricey. So, I would recommend you to go for two-stroke engines or one that has superchargers if your purpose is towing activities but you are a little tight on budget.
If you combine these engines with 4-blade propellers, they will operate best.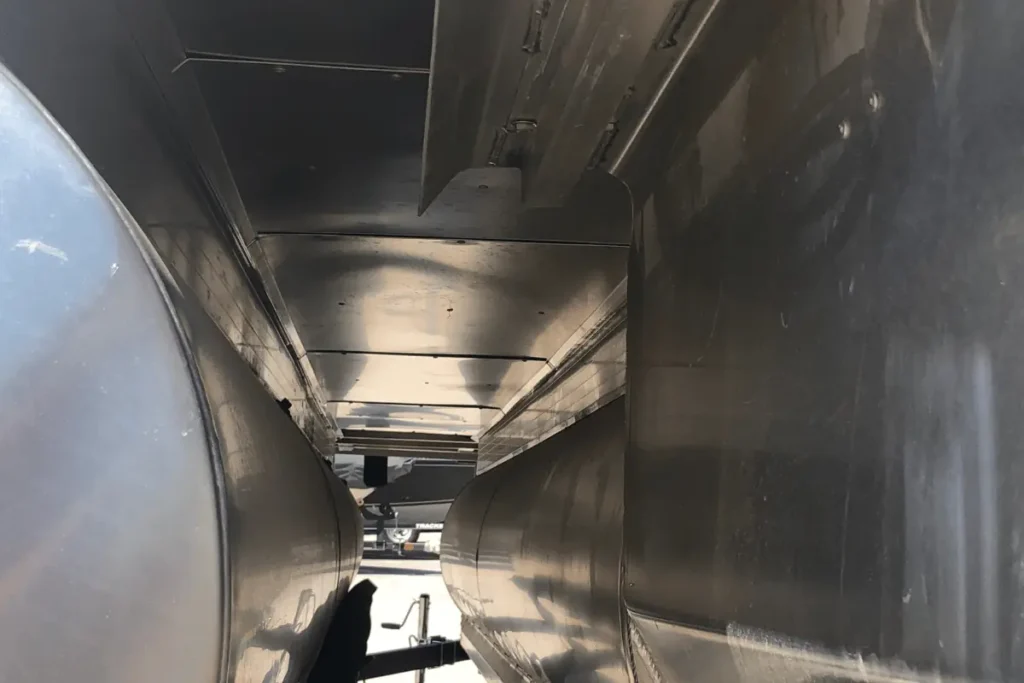 Pontoon Tube Size
Don't confuse the deck length with the tube length. A pontoon boat's tubes provide buoyancy and affect its capacity and performance. The larger the tube's diameter, the more enjoyable your boating adventure will be, as it provides more speed, balance, and stability.
Well, toons must have three or four airtight compartments to keep them secure in case one is punctured. It will also help strengthen the tubes.
You can find toons with a 23 inches tube diameter on smaller boats under 20 feet. However, on both boats with three toons and two toons, 24 inches to 25 inches tubes are common. If you invest in a more costly model, you can get a 26 inches tube in them.
The middle toon in certain tri-toon variants has a larger diameter. It helps the boat turn with a modest inward lean while also providing the buoyancy it requires to travel fast.
Seating Configuration & Capacity
A capacity plate, also known as a label, is found on most boats and validates the seating capacity and weight restriction. And not just people you will also be taking board some other stuff as well like tables, chairs, etc. Thus, before buying, figure out how much weight can a pontoon boat hold.
If you want to accommodate as many people as possible, you will need a lot of chairs. Also, don't forget about the captain's chair.
A chair with a higher helm is ideal for the captain because he or she would need to see above the passengers in front of him. A raised helm chair will put the driver in an appropriate position, improving his or her visibility level.
Besides, when it comes to chairs, seek for ones with comfortable sitting and high-quality foam that won't fade, mildew, mold, peel, or crack.
Comfort Amenities
Most models of pontoon boats offer various comfort amenities for maximizing the fun of your ride. The changing curtain is first on our list of welcoming amenities, allowing guests to squirm out of damp bathing suits and put on dry clothes. Though this is not a standard feature, most builders offer this option.
A Bimini top is standard on most pontoon boats or is a must-have feature for hot regions. Because the sun can be strong at times, this is a necessary comfort feature to protect yourself from dangerous UV rays.
Besides, you can find pedestal tables and cup holders in most boats. Even some cup holders are detachable and portable, allowing you to move them around the boat whenever you want.
A table increases the boat's adaptability. You can have snacks on a pedestal table. However, if you want to have alfresco supper onboard, consider buying a boat that has large tables.
You can also get amenities like a refrigerator, running water, sink, etc. on a luxury pontoon boat. Well, purchasing a luxury pontoon boat is not a good idea if you do not intend to use it for commercial purposes and do not have a huge budget.
Additional Features
As pontoon boats are getting increasingly popular, many brands are offering a lot of excellent features to attract customers. Some of the essential features you need to consider are boarding gates, bow decks, and reboarding ladders.
Consider buying a pontoon boat with at least three 32" wide gates. Also, make sure the reboarding ladder can go a minimum of 22" underneath the waterline.
Moreover, your boat must have an anchor and a designated storage area. Although most pontoon boat owners don't care about an anchor, it might be essential safety equipment even in protected regions.
An anchor is also useful for stopping in the middle of moving water, like a river, to have lunch or drink while watching the sunset.
However, most pontoon boat models don't come with an anchor. So, you might want to buy it separately and store it in the front, dockside seat locker.
Should You Buy a New or Used Pontoon Boat?
Whether a used or new pontoon boat is better for you depends on how much money you can spend, how important style is to you, whether you intend to resell, and a variety of other factors.
The main differentiating factor is the price. The entry-level price for a new pontoon boat is around $25,000. The price will significantly vary depending on features, engines, and style.
If you have no financial limitations, then going for a new boat is a far better option. New boats will have better and advanced features as well as a powerful engine.
If you are planning to resell your pontoon boat, then going for a new boat is the better idea too. The new pontoon boats are equipped with 4 stroke engines, whereas the used boats have 2 stroke outboard motors.
In a few years, no one would buy a pontoon boat with 2 stroke motors and it will be really hard to resale. New boats are also equipped with vinyl flooring, which has a lot of advantages.
It might be a deal-breaker in the future if you want to resale. Furthermore, if you want a boat with the latest styles, you will need to buy a new boat.
Again, if you want a warranty you will be better off with a new boat. And if you buy a new boat, you'll know that every component is in good working order and that you won't have to worry about a previous owner's maintenance history.
On the other hand, buying a used boat is a very good option because, unlike cars, trucks, pontoon boats depreciate at a much slower pace. Boats have a substantially longer lifespan than automobiles.
Boats may only be utilized for 3-6 months of the year in places with hot summers and frigid winters. They're also not used as frequently as your automobile or truck.
Well, the main risk of buying a used boat is you won't get a warranty. So, there is a higher chance that the seller will end up giving you a defective boat. However, if you have essential boating expertise, it will be hard to fool you.
If you know how pontoon boats function, run, and behave, and the accessories and mechanics required, you'll be able to make an informed decision and recognize a good deal on the used market. You will also know what to check for and verify to ensure it's in good working order.
So, in this case, you can go for a used pontoon boat and get a good deal at a reasonable price.
How Much Does a Pontoon Boat Cost?
A new pontoon boat costs about $18,000 to $70,000 on average, with the most popular models costing between $20,000 and $40,000.
However, the price can vary greatly depending on the size, finishing, materials, and engine type. The price of a single-person inflatable pontoon boat is often not more than $500.
But a tiny pontoon boat that has the place to carry 2 persons can cost as low as $2,500 to as high as $14,500, depending on the materials and build quality.
A midsize pontoon boat with seating for up to six persons can cost around $22,000. On the other hand, a big pontoon boat that can carry at least 12 people will cost you around $47,000.
The cost of the pontoon boat also depends on its type. A high-performance pontoon boat will cost you around $30,000-$40,000, whereas a luxury pontoon boat will cost you between $50,000 and $1,00,000.
Besides, you can get a water sports pontoon for about $25,000-$35,000, while a fishing pontoon costs between $15,000 and $23,000.
Also, whether it is a new boat or a used one is an essential factor to consider here. The cost of a brand new pontoon boat is very high if you compare it to a used one.
Conclusion
Buying a pontoon boat is a fantastic idea if you want to improve your physical and mental health.
By now, you must have got the answer to your question, "What size pontoon boat do I need?", making it easier for you to select the right one according to your budget and needs.
So, without any further ado, start looking for a pontoon boat and get the best deal for you.
Thanks for reading through. Hopefully, you've found this article helpful. Good luck.