Jet skiing is one of the most fun and exhilarating activities that you can do on a summer day.
It's also an activity that requires some preparation to ensure that your experience is as safe and enjoyable as possible.
In this blog post, we'll give you everything you need to know about what to wear on your jet ski ride so that you can get out there and enjoy yourself!
To enjoy a jet ski you can go as simple as a bathing suit, trunks, or wetsuit along with a life jacket. You need to make sure you are focused on safety and your comfort while out on the water by using items like sunscreen and a lanyard to stop your jet ski should you fall off.
Choosing the right gear to enjoy a jet ski is important for comfort and safety. Something like a wetsuit will keep your body warmer in cooler waters while a bathing suit or speedos may be the best option in warmer waters.
Understanding the conditions will help you make the right decisions when it comes to what you should wear jet skiing.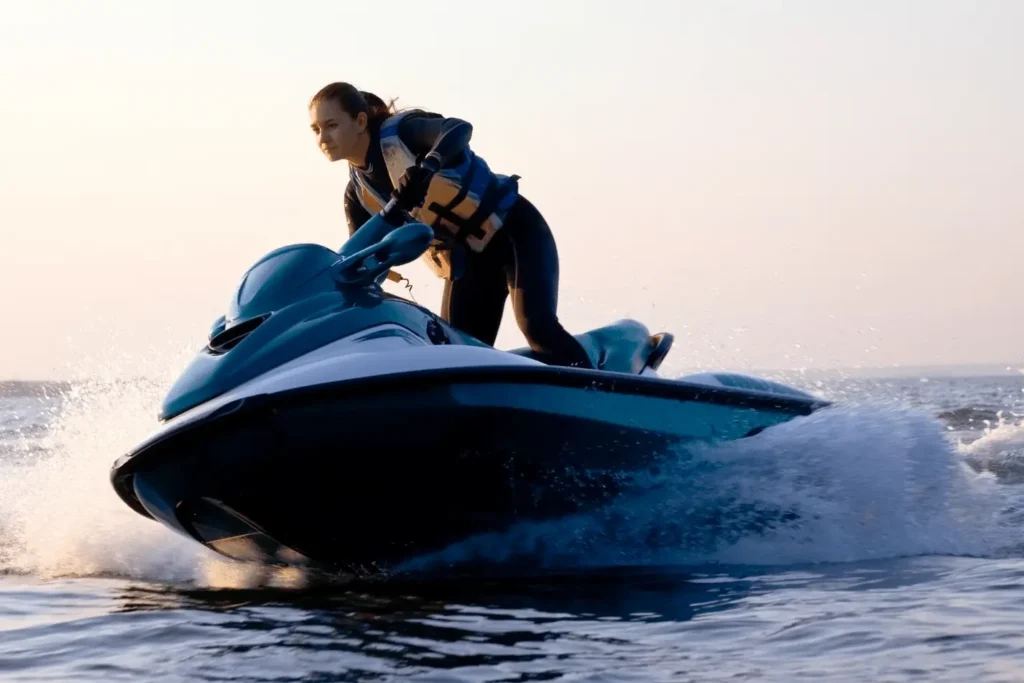 What Needs to be Worn to Jet Ski in Summer
When you want to go out and enjoy an amazing, entertaining, warm weather day on the water, for most a jet ski rental is an amazing getaway from a hotel or other beach excursions, but what should I wear on a jet ski?
Many common items like swimsuits, sunscreen, and sunglasses may not be forgotten. More important though are items like a life jacket, quality water shoes, and a safety lanyard to maintain safety and control while out on the water.
Let's take a look at each gear and provide some good quality options to help you order and get them in a vacation bag before you ever get there, this should help cut down on the expensive "gift shops" that sell overpriced goods to you because the demand is high.
Swimwear
This standard swimwear is what most of us will already bring with us to enjoy a trip with nice waters and beaches, but what is important to note here when it comes to what you should wear while jet skiing.
First, make sure that the swimsuit material will dry quickly as this will help you once you finish the ride and help dry you in between periods of hard riding.
Next, you want to try and avoid dark colors as they can lead to overheating your skin in prolonged exposure to the sun, which if you ride for hours can happen with more ease than you expect.
Additionally, you want to try to have as few seams as possible to help cut chafing issues and preferably materials that offer UV protection to provide you additional sun protection while out on the open waters.
Lastly, you want to make sure that the suit has a tight enough fit to not ride up over your body when you are on the jet ski as you are going to get wet and this will help avoid any embarrassing moments later.
Water Shoes
For many, they may believe that barefoot is the best way to go but over time this can lead to some issues with your feet being rubbed raw or even blisters forming after long periods of use.
Wearing a good pair of water-friendly shoes will not only help protect you from these issues but also provide additional support and extra grip on the water as well.
When it comes to what people wear jet skiing there are many options available that offer great support and durability as well as being water friendly.
This wide assortment of water shoes helps provide you with the perfect match for your needs.
Life Jacket or Life Vest
A jet ski life jacket is a way to ensure that you are able to enjoy your jet ski experience for as long as possible.
There are many different types of life jackets available that provide varying levels of buoyancy, so it is important that you understand what level you need before making a choice.
Many people will assume they only need the standard life jacket but this may not be enough depending on your size and the speed you are going.
The best way to make sure is by checking with your jet ski rental company but even they may not be able to tell about what level of protection each person will need so it always helps to do a little research beforehand.
As for color, most life jackets come in either orange or yellow which are great for their visibility in the water.
Safety Lanyard / Retractor
This is another safety device that many people do not know about but provides an additional layer of protection while you are riding your jet ski rental.
A lanyard can be worn around your wrist or neck to give you a way to take control over the jet ski if the engine were to fail or you fell off.
Most people like this simply around their neck as it is not something they are going to be taking on and off all day, but there are some who prefer a different option for wrist lanyards which can come in handy later when swimming with sea life, etc.
Sunscreen
One thing many excited vacationers leave without that leads to many sunburned days wasted recovering. You don't just want any sunscreen but you need a sunscreen that can stand up to high-speed water play.
You want to focus on solid options like these as they are perfect for water sports and can last through hours of play and fresh or salt water spray that occurs while riding out on the water!
Cap or Hat
While wearing sunscreen can help out you need to get a hat or sun cap as they are perfect for protecting your eyes from the sun's rays while also providing additional protection for your face.
Many people will simply wear a baseball hat or something similar but this can lead to serious issues with overheating of the head which if left too long could begin suffering some pretty severe headaches and migraines that last days on end!
Sunglasses or Goggles
While some people may not think of sunglasses on a jet ski, they are incredibly important to wear when you go out there so that you can enjoy the ride and also so that your eyes do not get damaged over time by the sun's harmful rays.
There has been an increase in the number of people wearing sunglasses while riding jet skis but it is still not nearly enough, so make sure to bring a good pair with you.
Goggles are also another option that some prefer as they help provide 100% protection from harmful rays and can be used for other sports too like skiing or snowboarding later on down the road.
Water-Resistant Accessories
This could be something as simple as a cell phone water-resistant case to something as complex as a fully waterproof backpack for storing phones and other items which you will want to bring with you on your jet ski ride.
There is such an array of options available that it can be hard to choose the right one but if you do some research beforehand then it should not be too difficult.
Bringing a Go Pro or DJI Osmo Action waterproof camera with you is a great idea because it can capture all of the fun memories but if it isn't protected then your vacation photos are going to be much different than expected.
This way, you will have no issues when taking pictures in the water or on land and won't have to worry about any unfortunate accidents that could ruin them later.
Gloves
The last good item to bring would be gloves to ensure you maintain good control on the jet ski rental, gloves ensure a death grip on controls without slipping.
Some may choose to go with full finger coverage on the gloves and others will choose to go with fingerless water gloves.
Even if it is a warm day, with the sun beating down on your hands and arms you will want gloves to protect them from any sort of burns or blisters that could happen especially in rough waters where waves are constantly hitting against your body.
While this may not sound like much at first but when spending hours out there you can easily forget that your hands and arms are even there which makes a pair of water gloves the perfect accessory to bring with you.
These will not only protect your skin from burns but also provide excellent grip on the handlebars so it is much easier for you to maintain control of the jet ski as well as help prevent any sort of accidents or falls if they do occur.
What to Add In Colder Months
If you choose to ride in the colder months then you need to plan a little differently on the clothes which typically means a replacement of the swimsuit.
So what should I wear on a jet ski when it's cold outside?
Wetsuit
The most common swap out is to move to a wetsuit to help provide a strong insulation layer of protection.
They are not as bulky or heavy and also provide good flexibility for your arms and legs to be able to reach the controls on a jet ski rental without any problems.
Since wetsuits can come in all different types of thicknesses and styles, you will want to make sure that they fit properly especially if it is going to be a cold day out there.
While you may think that a thicker wetsuit might be better for colder weather, this is not the case at all instead, you will want to go with something much thinner so you do not get too hot or uncomfortable while riding on your jet ski rental.
Warm Undergarments
After deciding if it is going to be a wetsuit or not, the next step is to find what you are actually going to wear under it.
A thermal layer would be best as these will provide plenty of insulation and help prevent any sort of chills from cold water happening during your ride. However just because they are warm does not mean that they have to restrict movement either.
So you will also want to opt for something that is very flexible and doesn't impede on your range of motion so it does not feel like a straight jacket while you are out there riding around looking at the sights or taking pictures.
Thrift stores typically have some great options which can go under wetsuits so they won't break the bank either if you are on a budget.
Final Thoughts on What You Should Wear While Jet Skiing 
The most important thing to remember is that you should plan ahead and bring the right clothes. This means wearing a wetsuit if it's cold outside, gloves in warmer weather, and warm undergarments when riding during any season.
Certain items such as swimsuits can be swapped out for other options like thermal layers or versatile wetsuits depending on your needs.
When planning what to wear while jet skiing, make sure to take into account all of these factors so you don't end up with an expensive vacation filled with regretful moments captured by your Go Pro or DJI Osmo Action waterproof camera!