As an Amazon Associate, I earn from qualifying purchases made on our website. In addition, we have many other affiliates' offers on the site.
Locating the best paddleboard on Amazon can be difficult as they showcase thousands of options, and just because one might be listed as the bestseller doesn't make it great just the one with the most sales but is that a good one for beginners, budget-focused, inflatable, hardtop, fishing, yoga, and so many more variables.
We have worked to go through this exhaustive chore to cut through all the mess and provide you with the top options in our opinion for each of the primary needs someone would be looking to fill!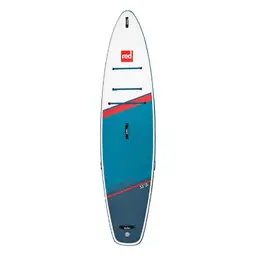 For paddlers who are looking for speed and performance
Stable no matter what your experience level
The drawn-out nose section gives quality glide
Bluefin Cruise Carbon comes with FRS carbon composite rail
2-piece carbon paddle with ergonomic shaft
Use the D-rings to transform your SUP into a SUP kayak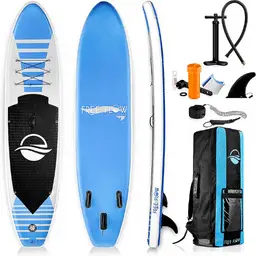 Balancing & stabilizing on top of this SUP board is a breeze
Perfect for beginners, this iSUP has a no-slip soft top
Outfitted with triple bottom panel fins for control
Our List of the 12 Best Paddleboards On Amazon
Best Paddle Boards Amazon
Best Paddle Boards on Amazon Reviews
The majority of SUP boards are an investment, but it is feasible to get a good board for a reasonable price. Let's take a look at each of the choices we have made above and we will then move into a guide on how to choose if you need additional information.
---
SereneLife iSUP – Best Overall
[affiliatable id='70549′]
---
Roc iSUP – Best for Beginners
[affiliatable id='70550′]
---
Goplus iSUP – Best Budget
[affiliatable id='70551′]
---
BOTE HD Aero iSUP – Best Inflatable
[affiliatable id='70553′]
---
Boardworks Versa – Best Hardboard
[affiliatable id='70554′]
---
Hurley PhantomSurf – Best Hikeable
[affiliatable id='70555′]
---
Boardworks Kraken All-Water – Best for Ocean
[affiliatable id='70556′]
---
Boardworks SHUBU Kraken – Best for Surfing
[affiliatable id='70557′]
---
BOTE Deus Aero Inflatable Kayak & SUP – Best for Kayaking
[affiliatable id='70558′]
---
Atoll 11′ Foot iSUP – Best for Bigger Guys
[affiliatable id='70560′]
---
Driftsun Padded Stand Up Paddleboard – Best for Yoga
[affiliatable id='70561′]
---
Sea Eagle FishSUP 126 Inflatable FishSUP – Best for Fishing
[affiliatable id='70563′]
---
Buyers Guide for Paddle Boards
The intention of this guide is to help you choose the perfect board for your needs. It's important to consider your weight, experience level, and many more things to ensure you make the right decision before making your purchase.
You'll also want to think about storage and transportation options, budget, and the type of water you'll be using the board in.
Type of Board
When it comes to paddleboards, there are a few different types to choose from. The most popular types are all-around, touring, and racing.
All-around paddleboards are the most versatile and can be used for a variety of activities such as yoga, fishing, and even surfing.
Touring paddle boards are designed for longer trips and have extra features for storage and transportation.
Racing paddle boards are the fastest and most agile, making them perfect for competitive racing.
Board Size
The next thing to consider is the size of the board. The length and width of the board will determine how stable it is and how easy it is to maneuver.
Generally, a longer and wider board is more stable, while a shorter and narrower board is more agile.
Board Weight
Choosing a board that's the right weight for you is also important. A heavier board will be more difficult to move and maneuver, while a lighter board will be easier to transport and move around.
Durability
There are many materials that can be used to make a paddleboard, and each has its own pros and cons. The most popular materials are fiberglass, polyethylene, and carbon fiber.
Fiberglass is the lightest material, but it's also the most fragile.
Polyethylene is the most durable material, but it's also the heaviest.
Carbon fiber is somewhere in between, offering a good balance of weight and durability.
Storage and Transportation
Another important consideration is how you'll be storing and transporting your board. If you live in an apartment or don't have a lot of space, you'll need to find a board that's easy to store and transport.
Some boards come with carrying handles and straps that make them easy to take with you wherever you go.
Budget
Finally, you'll want to consider your budget when choosing a paddleboard. Boards can range in price from a few hundred dollars to several thousand dollars, so it's important to find one that fits within your budget.
Weight Limit
Your weight is also an important factor to consider when choosing a paddleboard. A heavier person will need a larger and wider board for stability, while a lighter person can get away with a smaller board.
Some boards will have a maximum weight and the board will become far less stable.
Inflatable
Hard boards are more durable but require more care. Inflatable SUPs and in general paddleboards are becoming increasingly popular because they're much lighter and can be easily transported when deflated.
Use Area
The last thing to consider is how you're going to be using the board. Are you going to be doing yoga on it? Surfing? Fishing?
All of these activities require different types of boards. For example, a yoga board will be much wider and more stable than a racing board.
When you know how you're going to be using the board, it will be much easier to find the right one for you.